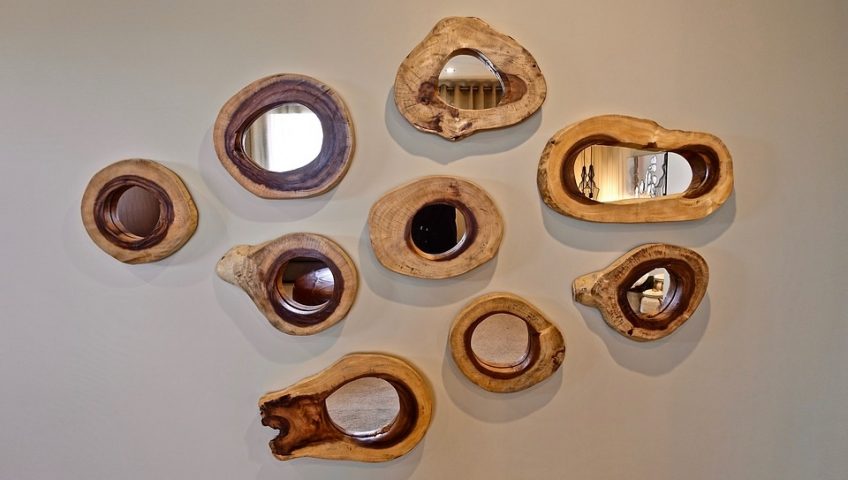 Use Custom Mirrors to Light Up and Expand Your Space
Mirrors are one of the most forgiving ways to add style to a space. They do double duty by bringing in more light and adding a more open feel at the same time. Unlike windows, mirrors can easily be moved to update their reflection and effect on a room.
Ask any interior designer and they'll tell you that one of the best ways to bring more light into a space is to add a mirror. Size and placement matters of course, but mirrors are such a forgiving addition to home décor that it's hard to go wrong. Mirrors are simple to keep clean with a feather duster and a spritz of glass cleaner now and then, and the variety of sizes and shapes available make it easy to match your personal style.
At Budget Glass, we offer custom standard or beveled edge mirrors, as well as a variety of sizes ranging from 18×24 to 36×72. Choose from clear mirrors, tinted mirrors or even an etched design.
High-quality mirrors from Budget Glass are ideal for use in bathrooms, on closet doors, workout rooms, outdoor spaces and more.
15 Ways to Use Mirrors in Your Home
Use in place of artwork – Instead of hanging yet another print or painting, hang a mirror! Framed or unframed, ornate or simple, it will add light to a dim room and help anchor the furniture.
Use on adjacent walls – Let mirrors play off each other to brighten up a space. This will help a room (like a bedroom) feel more spacious.
Use outdoors in a small patio or yard to add the feeling of more space – Place a mirror at an angle that will reflect greenery or blue skies. You can even grow a vine around it for a "secret garden" feel.
Use at the end of a narrow hallway to bring in more light and make it feel more spacious – Use a single large mirror to avoid a funhouse mirror effect.
Hang a small framed mirror by the front door – Use it for a quick check before you leave the house. You can also add a full-length mirror for a complete once-over.
Frame a mirror with a deep square or rectangular frame – This creates a mirror that will do double duty as a shelf.
Add an ornate or framed mirror to a gallery wall – Mix an attractive mirror in with artwork to add more visual interest to the space.
Group similar sized mirrors together for a fun look – Circle shaped mirrors are great for this since they can be hung in virtually any configuration without the design getting too picky.
Place a mirror in between windows to add the illusion of additional windows – If a window is oddly placed (talk to us, we can help solve your window problems) you can add balance to the room by "faking" it with a mirror.
Add a framed mirror with a pop of colour – Bring instant visual interest to a bedroom, kitchen or living space. A bright red, cobalt blue or sunny yellow can add vibrancy to your home.
Use a mirror as a centrepiece above a mantel – This adds instant style and as with furniture, will anchor the mantle as a focal point whether you prefer clean lines, an ornate metal framed piece, or anything in between.
Add drama with oversized or floor to ceiling mirrors – This works especially well to open up a small bathroom.
Add a mirror adjacent to something you want to see reflected – If used outdoors, it could reflect a water feature. Indoors, it could reflect a window or a favourite piece of art.
Create an eye-catching pattern or mosaic – Play with shapes and textures and create an eye-catching design for that special place in your home.
Let a mirror do double duty as a timepiece – A useful clock-turned mirror with clean lines is a thing of beauty.
Tips for Decorating with Mirrors
Hang mirrors at about eye level, with the center of the frame no less than 48-50" from the floor. If you're very tall, hang the mirror so the centre point is around 65" from the floor.
When used as wall décor, mirrors should be two-thirds the size of the wall it is hanging on, or of the piece of furniture that it's above.
Hang the mirror so the bottom is about 2-4" from the top of the shelf or furniture, so it appears as a cohesive part of the scene you've created with furniture and décor items.
Consider what the mirror will reflect. As well as adding visual interest, whatever the mirror reflects should make you smile when you see it.
Heavy mirrors should be hung by professionals. Our team at Budget is experienced with these more delicate installations.
If you're DIY'ing the mirror installation, ensure that it's straight by using a laser or bubble level. Mark the placement with a pencil before drilling any holes.
Use a wall hanger or picture hook on each end so the mirror will hang flat to the wall.
When you need custom mirrors created to fit a specific room in your home, the glass experts at Budget can help. We provide and install mirrors for a variety of spaces, offer a variety of pre-cut sizes and can cut custom sizes complete with openings for fixtures and outlets. Contact our staff today to discuss sizing, texture and placement for your custom mirror.