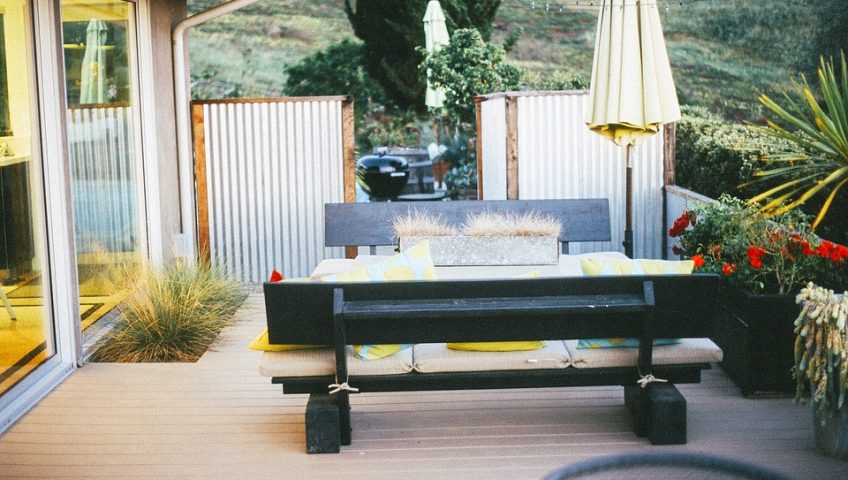 Deck Designs on your list of things to explore this summer? Deck designs and patios are a great addition to any home. In addition to providing a comfortable space to enjoy the outdoors, deck designs can also make a statement! With the ever-increasing supply of products available, the options are nearly limitless to create a visually pleasing space that you feel comfortable in. If you are looking to spice up your patio this summer, we've got a few suggestions!
Deck Designs and Railings:
Aside from the obvious safety factors, railings can really bring patios to life. Upgrading or replacing your existing railings can freshen up older deck designs and patios. While there are many materials available for railings, from simple wood to classic wrought iron, glass is one of our favourites! Glass railings provide an uninterrupted view as well as a windscreen. Additionally, they tend to be relatively low maintenance, since they won't corrode or rust like iron and they won't require regular staining like wood. We can install glass railings with a top rail or without, so they're also customizable. Regardless of what you choose, upgrading or replacing your railings can rejuvenate your outdoor space.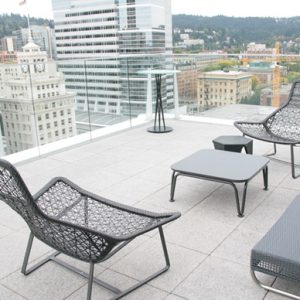 Deck Designs, Patio Covers and Awnings:
Patio covers and retractable awnings can go a long way to adding some life to your deck designs and your patios. Both choices allow you to use your outdoor space longer, as they provide protection from sun and rain. Patio covers are fixed structures and they can be made with opaque roof panels, glass, or a combination of the two. They are virtually maintenance free and have a long lifespan. Retractable awnings are not fixed, so you can use them when needed. They are constructed out of fabric and can be motorized or manually set up. Awnings are low maintenance, requiring only a small amount of cleaning to keep them functional. They have a long lifespan as well, though the fabric will need replacing with time. Either option will offer you more opportunities to enjoy your outdoor space!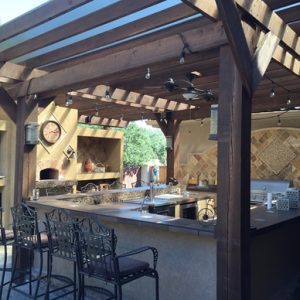 Deck Designs, Containers and Planters:
Containers also make a statement for your deck designs and your patios. With so many different types and sizes now available, they can be a simple way to add style to your outdoor space. Some planters have directional designs, so if you have glass railings, make sure you like the back design too! Style isn't the only thing to consider though; the materials your planters are made with can make a difference to how much maintenance you'll need to do. Metal containers for full sun deck designs and patios may need additional watering as they'll heat up quickly, and terra cotta or glazed pots may need to be stored during the winter to prevent cracking in freezing temperatures. Make sure your choices suit your deck designs, whether your look is laid back and low maintenance, elegant and sophisticated, or vibrant and fun!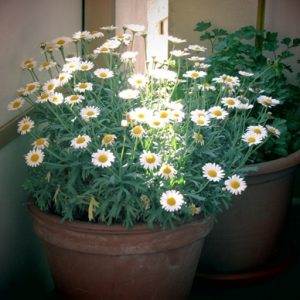 Deck Designs and Plants:
Flowers and herbs can really bring deck designs and patios to life! Whether you want classic greenery or a riot of colour, plants are a quick and easy way to bring a fresh look to your outdoor space. While you're choosing plants, you should consider whether you will have new flowers replanted every year or whether you will want plants that mature over time. Your local garden centre can advise you on the best plants for your deck designs, patio, and the look you're going for. If you choose to house multiple plants in the same container, consider planting taller flowers or herbs in the middle of your planter. This is especially important with glass railings, since you'll want to see your plants from all sides!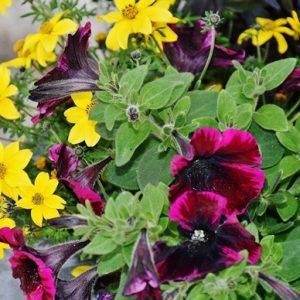 Deck Designs and Furniture:
Outdoor furniture comes in a wide variety of materials and styles. Many places carry outdoor furniture and can advise you on what materials will best suit your needs. Some considerations include durability, style, and required maintenance. If you already have furniture that you love, consider livening things up with outdoor cushions or a new coat of paint. Furniture makes a statement in your deck designs, so make sure it matches the feel of what you're going for. Consider whether your style will work with weathering, or whether your look will need to be refreshed regularly to keep the feel you want. Do your research first!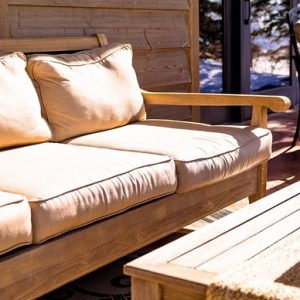 Ultimately, whether you choose to upgrade your railings, buy new containers, plant a herb garden, install some shelter, or repaint your favourite chair, make sure you choose something you're going to enjoy. If you're comfortable with your deck designs, you'll be using those deck designs for a long time to come!