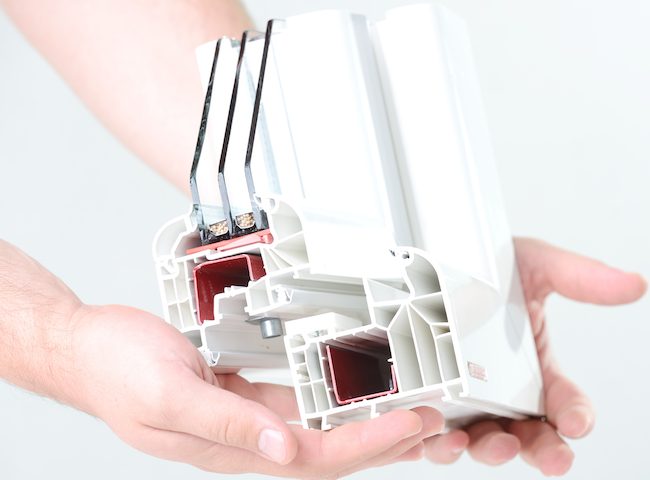 Are Triple Pane Windows Worth the Extra Price?
Whether you're building your dream home from the ground up, or you're looking into cost estimates of upgrading your old windows, chances are the topic of triple pane vs. double pane windows has come up in your research. Many of our clients at Budget Glass ask us if it's worth paying the extra money for triple pane windows. And we understand why: the price difference can end up being thousands of dollars!
Here is our long answer to the common question of, "Are triple pane windows actually worth the additional cost?"
Understanding Double and Triple Pane Windows
Back in the day, a window consisted of a single sheet of glass sealed in a frame. Nowadays, these single-pane windows are slowly but surely getting replaced with double pane or triple pane windows.
These newer windows are more than just glass – they are a new technology that consists of two or three sheets of glass (panes) that are sealed together with a bit of space left in between them. This airspace is quite often filled with a clear, odourless gas like argon or krypton to provide further energy-efficient insulating properties. These multiple pane windows are sealed units or insulated glass units (IGUs).
Double pane windows are designed to reduce a home's heating and cooling costs by making it more energy efficient. The double panes provide a noticeable amount of added insulation to the home. In triple pane windows, the third pane adds another insulating barrier, creating the ultimate in energy efficient windows.
In Canada, multiple pane windows are required for all new buildings as per the National Building Code.
So, which is better?
Because double pane windows offer a home increased energy efficiency and reduced heating and cooling costs, a lot of homeowners are curious if it's worth it to pay a bit more to get triple pane windows, which offer even more energy efficiency.
The bottom line is that triple pane windows are only worth the investment if you plan on living in your house for enough time to benefit from the energy savings. In a mild climate like Vancouver Island, this could take up to 25 years, depending on your average heating and cooling costs.
Triple pane windows are also considered worth it for homeowners who are sensitive to cold drafts in the winter and want to avoid them at all costs.
It's important to note that triple pane windows will pay for themselves faster through energy savings if you live in a colder climate. They make sense in places like Winnipeg, Edmonton, Calgary, and in Northern BC where temperatures drop dramatically in the winter (in some cases they are actually mandatory!).
However, here on Vancouver Island and the Lower Mainland, double pane windows – the building code standard – provide a very satisfying level of insulation for most homeowners, especially when they come with special low-e coatings that help further reflect infrared light, which keeps your heat indoors in the winter and outdoors in the summer. The addition of the third pane in most Nanaimo homes would not make that noticeable of a difference where temperatures don't really drop much below freezing (and when they do, it doesn't stay cold for months at a time).
Advantages of Triple Pane Windows
All that being said, there are some advantages to triple pane windows. For example, they can:
Better resist condensation
Offer additional sound insulation or noise reduction
Help reduce your heating and cooling costs if you live in a cold climate where winters last a long time
Add value to your home if they are installed professionally
Provide extra room for more special coatings to be added to your window
Disadvantages of Triple Pane Windows
The energy savings from installing triple pane can take up to 25 years to equal the cost of the windows, depending on your average energy usage.
They cost more than their double pane counterparts by up to 30%.
They come with extra weight, so you will need to ensure your home can handle the extra weight.
They are only effective if all the windows are upgraded. If drafty skylights, front doors, and sliding patio doors aren't upgraded or addressed, the energy savings from triple pane windows won't be realized.
Costing Out Your New Windows
Triple pane windows can cost anywhere from 10 to 30% more than double pane windows, depending on things like any additional coatings and glazes that are requested, and whether or not your frames need to be altered to accommodate the larger, heavier sealed units. It might not seem like that much higher of a price for just one or two windows, but if you're upgrading all of your old windows, going up to triple pane can cost thousands of dollars – which might have an impact if your renovation budget is already tight.
So, at the end of the day, are triple pane windows really worth the investment? If you have a small home and need to swap out a couple of windows, the above advantages might be worth it to you to spring for triple pane windows. However, double pane windows are more often than not more than sufficient for homes in our region's mild climate.
For builders and remodelling professionals, the jury's still out on this topic, with some companies only offering up triple pane windows, and some companies only offering up double pane windows. However, as federal and provincial codes continue to evolve and prioritize energy efficient building designs, we won't be surprised if triple pane windows become standard issue for all new builds in the near future. We are keeping a close eye on this one, but for now, please know that our double pane windows with added specialty coatings more than meet the province's minimum energy rating (ER) of 25 for the Zone 1 climate of Vancouver Island and the Lower Mainland.
Professional Window Installation & Replacement
If you are still unsure if double pane or triple pane windows are right for you, our experts can guide you through this decision-making process, basing our expert opinion on current building codes, your current heating and cooling costs, and your budget.
To learn how the glass professionals at Budget Glass in Nanaimo, BC can help with your window installation, repair, and replacement needs, give us a call at (250) 758-3374 or schedule an appointment online.