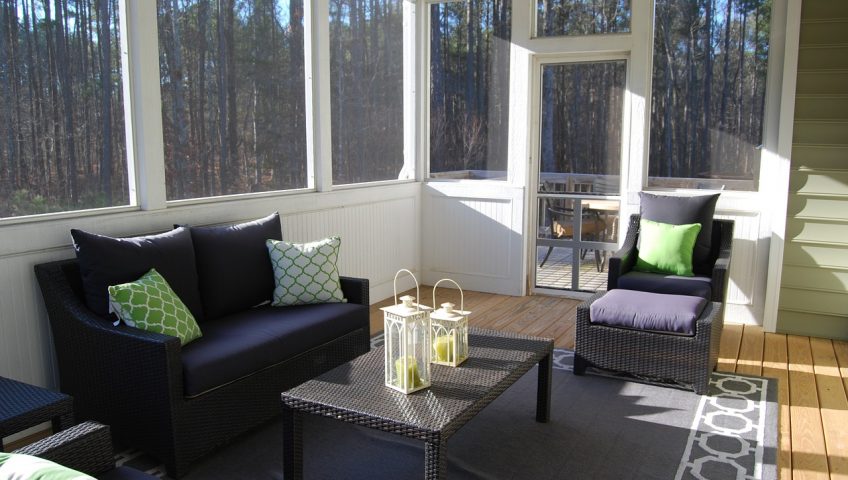 Enjoy your Patio Year-Round with these Upgrades
The fact that days are getting shorter, nights are getting cooler, and kids are back to school doesn't have to spell the end of your outdoor patio season!
In our previous post on Creative Ways to Incorporate Glass into Your Outdoor Spaces, we included a variety of ways to not only make your patio more beautiful – we also included ways to extend your patio season using glass.
In this post we share even more ways you can use glass outdoors to enjoy your outdoor spaces well after the sunshine of summer starts to fade. Here are our top 6 ways that custom glass features can help you enjoy your patio year-round.
1. Sunrooms
Sunrooms are without a doubt the grandest way to extend your patio season. Adding a sunroom to your home essentially means adding an entirely enclosed space made of glass to the exterior of your property. Sunrooms provide additional square footage to your home, add more natural light, and allow you to enjoy the scenery of the outdoors year-round. As a Four Seasons Sunroom Distributor, our staff can answer all of your questions about adding a sunroom to your home.
See Sunrooms: What You Need to Know to learn more.
2. Enclosed Patios
If a sunroom isn't feasible due to your budget or you just don't have the space, consider an enclosed patio instead, where you simply add a glass roof (patio cover) and glass walls, and voila!  You can also create enclosed outdoor spaces that are independent from your property using this method, resulting in a glass gazebo. Glass walls surrounding your outdoor seating area will protect everyone from both wind and noise, while frosted glass has the bonus of adding privacy.
3. Patio Covers
Glass patio covers are probably the No. 1 thing homeowners can do to extend their patio season here on the "Wet Coast".  Affixed to the side of your home, a glass patio cover acts as a large awning to shield the area underneath against rain and snow. They are perfect for BBQ areas or outdoor kitchens. Patio covers are as beautiful as they are functional, and with so many custom glass patio cover options available, you are sure to find something that complements your current space and house exterior.
4. Glass Pergolas
A glass pergola acts much like a patio cover does – in fact, the terms are often used interchangeably. However, a glass pergola is a freestanding structure (not attached to your home). Glass pergolas are not as structurally sound as a patio cover, but they are helpful for outdoor areas that are more than a few steps away from the back door, and useful when you're unable to affix something to your home's exterior. They are also portable in some cases. For example, in the event you move, you can dismantle and take your pergola with you.
5. Sliding Glass Walls
If your home's architecture supports it, go for a sliding glass wall that connects your interior to your exterior living space. With this option, the wall that leads to your patio is replaced with not just a sliding glass door, but an entire wall! When combined with a patio cover and a few outdoor patio heaters, you can successfully blend the beauty of your backyard with your home's interior. Perfect for dinner parties and just life in general!
6. Glass Firepit Surround
Firepits are becoming increasingly popular in fall and winter when open fire bans are lifted, especially on cool nights. Don't allow wind to disturb your fire! A wind guard for your firepit made of glass can help you enjoy the warmth and beauty of the fire while protecting the fire from gusts of wind.
A glass fireplace surround added to your traditional firepit won't keep the rain out, but it will help reduce the wind from putting out your flames. At Budget Glass, we can provide you with a custom-made glass fireplace surround using the measurements you provide us. Our experts can also help you pick out what type of thickness and edges will be suitable for your glass project.
More Ways to Extend Your Patio Season
In addition to the above mentioned glass features, you can also extend your patio season by doing things that will encourage your family to want to be outdoors in the first place, such as:
Plant fall veggies
Enjoy your favourite hot beverages outdoors
Buy patio heaters
Create a cozy space with furniture, pillows and blankets
Keep the area clean and inviting
Add a covered outdoor kitchen
Install a hot tub
Keep up nice lighting year-round
Just because the weather gets rainy and windy here on Vancouver Island in the fall, you don't have to pack up the patio furniture just yet! Consider adding glass to your patio to protect your outdoor living space from the elements. Doing so might just make your patio your favourite place to be year-round.
The above suggestions are just a few of the ways you can extend the potential of your patio into the fall and winter seasons using glass. Contact the glass and window specialists at Budget Glass Nanaimo to receive free quotes of any or all of the above project ideas. Call us (250) 758-3374 or schedule an appointment online.