8 Creative Ways to Incorporate Glass into Your Outdoor Spaces
At Budget Glass in Nanaimo, it's no secret that We Love Glass – and one of the reasons we love glass so much is because of how it's such an elegant, functional, and versatile building material. When it comes to residential glass, we believe the material is good for so much more than just the four walls of your home.
When it's added to your outdoor living space, glass can help your patio stand out, help show off an attractive table, or accent and protect your pool area, for example. There are a number of ways custom glass features can enhance the look and feel of your outdoor space. Here are the top 8 ways custom glass features can take your patio to the next level of class and comfort.
1. Glass Walls
An outdoor seating area is made instantly cozier and more private with the addition of a sandblasted or frosted glass privacy wall or two. By adding glass walls and privacy screens around your patio area, you're essentially protecting the area from nosy neighbours and shielding the area from wind, noise, and in some cases – mosquitoes. Try adding solar-powered coloured LEDs at the base of the glass walls, which can add a little something extra to the evening's ambience.
2. Glass Door
Replace your standard sliding glass door with a custom-made pivoting glass door. A pivoting glass door in place of a standard slider door or French doors can instantly add an impressive and modern touch to your outdoor design. A pivot door is a swinging door that opens via a spindle in the centre of the door frame, as opposed to being affixed via hinges to one side of a frame.
Pivot glass doors are usually larger and heavier than regular doors. Glass pivoting doors can be frosted for privacy, or clear for optimal views. The spindle is usually hidden so as not to obstruct the view. With hands-free operation, some pivoting doors are also functional when your hands are full of drinks and appetizers for your guests.
3. Glass Patio Cover
Glass patio covers protect you and your guests from harmful UV rays in the summer months and shield you from the rain in the fall months. This allows you to extend your enjoyment of your outdoor patio.
As beautiful as they are functional, patio covers made of glass are an easy way to incorporate glass into your backyard décor. The best part is that with so many custom glass patio cover options available, there is plenty of opportunity to get creative with your patio cover design. Budget Glass in Nanaimo can help you choose from:
Aluminum or wood framed patio covers
All glass, partial glass or all aluminum roof
Clear, bronzed or opaque glass
4. Glass Pool Surround
Adding a glass railing surround to your backyard pool in place of a chain link or picketed fence provides a stunning design element to your outdoor living space. Glass railings are an elegant way to provide a beautiful safety feature to any space. They are also strong, durable, easy to clean, and shatterproof.
With a glass pool surround, your backyard instantly becomes more serene when there isn't a big and bulky barrier obstructing the path to the pool. This not only makes the area more attractive but keeps the occupants of the pool that much safer.
Glass railings are another area where you have customization options in terms of framing material and colour, and whether you'd like to have top-rail framed glass panels or topless glass railing options.
5. Glass Tabletop
Instead of buying a patio table from a Big Box Store, why not make a glass tabletop using a piece of custom-cut glass? Ordering a custom-cut glass table (i.e. plate glass) is more cost-effective than you'd think, and glass tabletops are always in style.
To make your own glass tabletop, start by choosing what you'd like to use as your table base – from oak barrels, to engine blocks, to framed boxes, to old stone statues – and then order a custom-cut glass top from us here at Budget Glass Nanaimo. Simply provide us with the measurements you need, and we will cut your glass to order.
If you're not sure what type of glass or what thickness you need, our experts can show you the shapes and edge work options suitable for your glass project.
It's possible to add a glass tabletop to an existing table as well, which can make a standard patio table more stable, more attractive, and easier to clean up.
6. Glass Artwork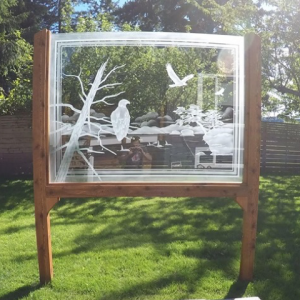 Glass installations don't need to be some sort of super-structural additions to your outdoor spaces – they can be added completely for art's sake! A custom etched-glass artwork can quickly become the focal point of your entire backyard.
We believe stand-alone pieces are a fun way to incorporate glass into your outdoor décor and might just become a conversation starter. Just take a look at one of our staff's custom glass accents in his own yard:
7. Glass Water Wall
A glass water wall or waterfall looks similar to a water fountain, but the water is piped upwards and falls from above while being splayed across a large sheet of glass (smooth or textured) before it falls back down to the collector dish below. The constant trickling water down the decorative glass of a water wall creates a glimmering, soothing effect, especially when combined with lights and your favourite plants.
8. Glass Lanterns
Don't overlook your backyard's lighting design! Combine any of the above creative uses for glass in your backyard with a lighting solution also made of glass to round out your look. By operating more than just your standard exterior light, you can add a touch of coziness and variety to the space.
Solar-powered outdoor lanterns add the perfect finishing touch to your outdoor living space and can truly tie all of the glass art and accents together for one unified backyard oasis. Hang glass lanterns from trees, add a couple to your steps, and place one to serve as a centrepiece for your glass table-top.
Your backyard will be looking like a magazine spread in no time!
The above suggestions are just some of the ways you can get creative with your outdoor spaces using the elegance of glass – our favourite building material! If you have an idea on how to use glass design in your backyard design, the custom-cut glass and window specialists at Budget Glass Nanaimo can help. We believe glass is a clean and elegant addition to any outdoor living space. Call us (250) 758-3374 or schedule an appointment online.