Tips & Tricks for Painting Around Windows
When it comes time to paint the house, painting around your old wood-framed windows is oftentimes the most tedious part of the entire project. Painting wooden windowpanes and frames can be time-consuming and is often a messy, frustrating experience if you aren't slow and steady, or you haven't taken the time to properly prep the area.
If painstakingly taping your windows with painter's tape doesn't appeal to you, there are a few different ways you can protect your windows while you paint the frames. The methods below are faster than using painter's tape, work just as well, and best of all, they don't leave behind any sticky adhesive!
Here are 4 clever hacks for painting around windows: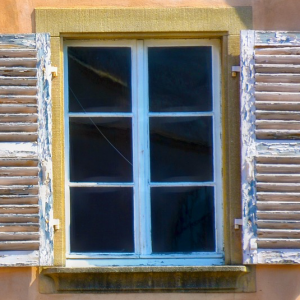 1. Masking Liquid
Masking Liquid H2O, a painter's best friend, is an acrylic-modified, water-based clear coating that peels off of glass once it's dry. Masking Liquid is easy to use both indoors and outdoors. To use this product, simply brush the liquid onto the edges of the glass, give it some time to dry to a gel-like finish, and then start painting. Afterwards, the masking liquid can be peeled away easy enough. We recommend using the sharp edge of a razor blade to slice the gel away from the edge of the frame, and then the flat edge to scrape the gel off.
2. Lip Balm or Vaseline
If you don't have any masking liquid lying around the garage, it's no problem! Regular lip balm or Vaseline can be used instead. Using a cotton swab or your fingers, apply a generous coat of lip balm or a thin coat of Vaseline on the areas you wish to protect from paint.
Once the paint is dry, simply wash off the protective coating with a dry cloth and some window cleaner.  This method works exactly the same way as masking liquid at a fraction of the cost.
3. Wet Strips of Paper
Wet paper strips, cut carefully using a paper cutter or straight edge to make sure the lines are straight, are a genius way to protect glass when you're painting around your windows. The wet paper sticks to the window just like tape but is easier to get into position and a lot easier to remove around into the perfect position.
Here's how to do it: Take carefully cut strips of paper – regular copy paper is just fine – and dip them into a tray of water. Make sure the strips are saturated but not falling apart, remove the excess water, and then apply the strips on the glass you wish to protect. The wet paper sticks to the glass easily and can even be moved around until each strip is positioned just right.
Once applied, dry up any excess or dripping water from the windows and then simply paint around the window. Remove the paper strips once the paint around them is dry—these paper protectors will likely dry at the same rate as the paint colour.
Additional Tips for Painting Windows
Before using any of the methods above, thoroughly clean the windows and their frames of dust, debris, and spiderwebs.
Fully remove screens – paint drips on screens are difficult to clean.
Have cotton swabs and a damp rag on hand to clean any messes up as you go.
Use a paintbrush intended for cutting in and painting in closed quarters. A 1.5 inch stiff angled brush will help out a lot, as stiff bristles are more precise and don't splay out.
Work from the center outwards if possible and aim to paint rails (horizontals) before stiles (verticals).
Remove any paint drips from glass windows once they are fully dry using a razor blade or specialized tool like the MaxCraft Stubby Scraper made exclusively for removing adhesives and dried paint.
Big or small, a painting project is often a chance to get a little up close and personal with your home's walls and window frames. Sometimes setting out to give the place a fresh coat of paint leads to other renovation projects. If, as you're prepping your windows for a paint job, you realize that you might be better off replacing your old windows with new vinyl windows, the team of glass specialists here at Budget Glass Nanaimo can help! Give us a call at (250) 758-3374 or schedule an appointment online.